History of Atwater
John W. Mitchell • Marshall David Atwater • George Bloss, Sr. • E.A. "Pop" Heller
History of Atwater
Geographically, Atwater is located in Merced County, California, in the large region known as the San Joaquin Valley. The topography, when American settlers arrived, was that of rolling plains
with large rivers cutting through. This feature is what made it possible to turn the land into an agricultural paradise.
Originally occupied by many clans of the Indians known as Yokuts, and then by the Spanish who had large land grants, the face of the area began to dramatically change after the Treaty of
Guadalupe-Hidalgo in February of 1848. The discovery of gold in 1849 brought people flooding into California looking for quick riches.
Atwater was not a fast development. By the turn of the century, only one hundred people lived in the area. Atwater was, however, lucky to attract many visionaries and benefactors invest in the future of the town.
Despite its slow start, the town did indeed develop. Situated in the population belt of the valley, over half of the county's population is now centered in the Merced-Atwater area. The Santa Fe
Railroad was laid north of town and, along with Highway 99 passing through town, brought excellent transportation opportunities.
The Atwater Canal brought irrigation to the area, while the advent of the Merced Army Flying Field (later named Castle Air Force Base) brought people and increased commerce.
The Atwater Historical Society wishes to pay tribute to the people whose vision was so important to the settling of this part of the San Joaquin. Without a past there would be no future.

A Look Back:
John W. Mitchell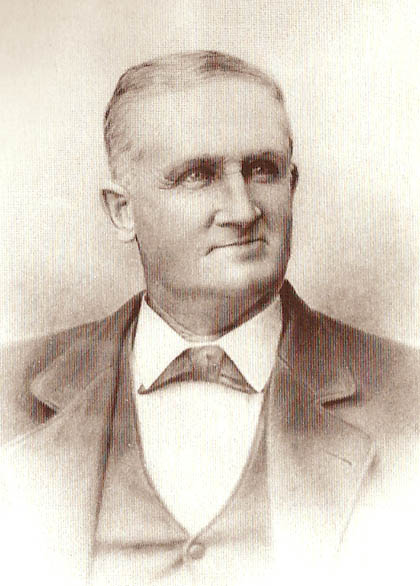 John W. Mitchell
John W. Mitchell arrived in San Francisco, following his brother Asal, on February 22, 1851. After working in San Francisco long enough to buy equipment, Mitchell and his brother went into
business cutting hay and cordwood around the Stockton area. They sold these goods to the teamsters working the mines. They soon had their own wagon and tent and supplied the mines, selling goods to those working in the gold fields. They set up the tent and rented out one half for $50.00 a month. Being an entrepreneur of the first order, any money Mitchell saved was used to buy land from the United States Government at the rate of $1.25 in greenbacks (paper money), or 75 cents in gold, per acre.
Mitchell had a half million acres in his name even before an official survey was completed by the United States Government. Having been reared on a farm in the Woodbury area of Litchfield County, Connecticut, the land had always been his calling. He convinced other people from his home state, including the families of his three nieces, to come west and try their hand at dry land farming. He would provide those who rented from him with seed to get started, farm equipment, and would build houses for them. Mitchell was the man who influenced the growth and settling of the land in the Atwater vicinity.
Mitchell died on November 26, 1893, at the age of 65. Though Mitchell had married, his wife Jane predeceased him, and they had no children. The bulk of his estate was inherited by his three nieces and the children of Mitchell's sister Mrs. Stone: Mrs. Henry Geer (Mary), Mrs. Stephen Crane (Emma), and Mrs. George Bloss (Ella).
Marshall David Atwater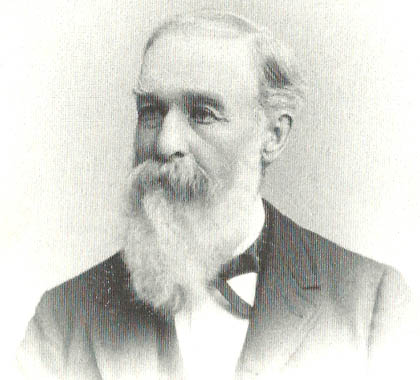 Marshall David Atwater
Marshall David Atwater came to California from Bethany, Connecticut as early as 1855. He spent several years working in the Mokelumne Hills area before coming to this area in 1868. He was prompted to make the move by John Mitchell. As one of the first settlers, he began to farm wheat on acreage that he rented from Mitchell. Atwater also purchased 6,000 acres of his own north of Atwater: "The Winn Ranch".
Atwater became one of the largest grain growers in the area. In 1872, when the Central Pacific Railroad pushed through the Valley to Merced, Atwater and Mitchell convinced the railroad to put in a spur at the warehouse where Atwater stored his grain. This became known as "Atwater Switch" and made it easier for Atwater to ship his large amounts of grain. About this time, he also purchased a ranch of some 4,480 acres, which was located northwest of nearby Merced. By 1876, Atwater, his wife Laura and their daughter Eliza moved to their new home on this ranch.
Atwater became a diversified farmer growing different grains, citrus fruit, and livestock. He also invented a huge grain harvester pulled by twenty-four mules. He operated this farm for over thirty years, passing away at the age of eighty in February of 1905.
George Bloss, Sr.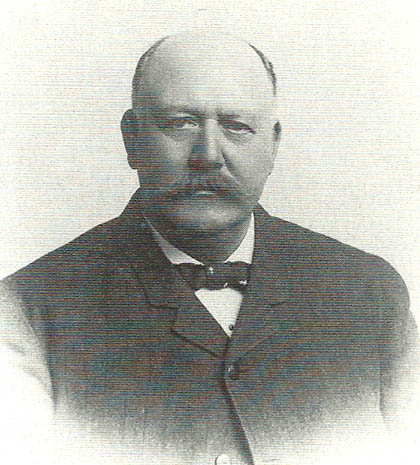 George Bloss, Sr.
George Bloss, Sr., who settled in the area in 1884, administered the Mitchell Estate, his wife Ella - one of the Mitchell nieces - inherited.
In 1887, Bloss and Henry F. Geer subdivided 480 acres into 20-acre parcels and called the area Atwater Colony. In 1888, the Merced Land & Fruit Company laid out the town and sold lots at auction. George S. Bloss and his wife approved this plan, and the town was given the name of the colony.
Bloss was president of Fin de Siecle Investment Company, which had been created by all three of the niece's families to handle the Mitchell holdings. This company was liquidated and divided into thirds – one for the Bloss Land and Cattle Company, one to the Crane Brothers Company, and one to the Geer-Dallas Investment Company. Bloss utilized the third to benefit the town with a library, built in memory of his grandson, and a hospital in memory of his wife, Ella. George Bloss, Jr. and his wife Christine later continued these philanthropic endeavors.
E.A. "Pop" Heller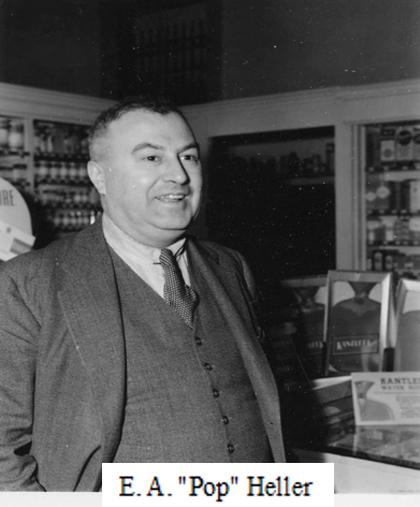 Blacksmith or Pharmacist???
Would E. A. Heller follow in his father and grandfather's footsteps and become a blacksmith, or follow his own dream and become a pharmacist? It wasn't long after E. A. Heller made his decision to make his dream come true
.Leading up to that was the family's move from Wisconsin to California
In 1905, Mr. and Mrs. Elias Heller and their son, E. A. Heller moved to San Jose, California from Wisconsin due to Mrs. Heller's poor health. Elias started work in Santa Clara as a blacksmith.
Sadly, Mrs. Heller died from tuberculosis shortly after the San Francisco earthquake in 1906. Elias was leery that another earthquake might follow the devastating 1906 quake, so the family eventually moved to the Fresno area and lived in several different towns before moving to Atwater. In 1908 E. A. entered the University of California School of Pharmacy at San Francisco. He graduated in 1910. While attending college, E. A. Heller worked at Brommel Pharmacy in San Francisco. He would stay all night at the pharmacy so that if there were any nighttime customer requests, he could take a streetcar and deliver the prescriptions. In 1911 E.A. married Marguerite Skaggs. Their children were Jim, born June 6, 1912 and Rosalie.
What was it like in the central part of California around 1912?
As a little boy, Jim Heller remembers his father E. A. Heller, working in a few Fresno pharmacies and moonlighting as a Victrola phonograph salesman while living in Fresno County.
Electricity had come along, as well as the paving of some of the dirt roads. Horses and buggies remained in use until the early 1920's, although there were a few automobiles on the roads as well.
In 1912, the town of Atwater suffered a terrible loss when a fire started in the meat market and all the businesses between Third and Fourth Street in town burnt down. The only business that survived on the block was a small grocery store owned by the Williamson Family, which later became Lawrence Grocery Store.
Also in the same year, George Bloss Sr. paid $21,000 to have the "Bloss Block" built. It was a large building and housed several businesses.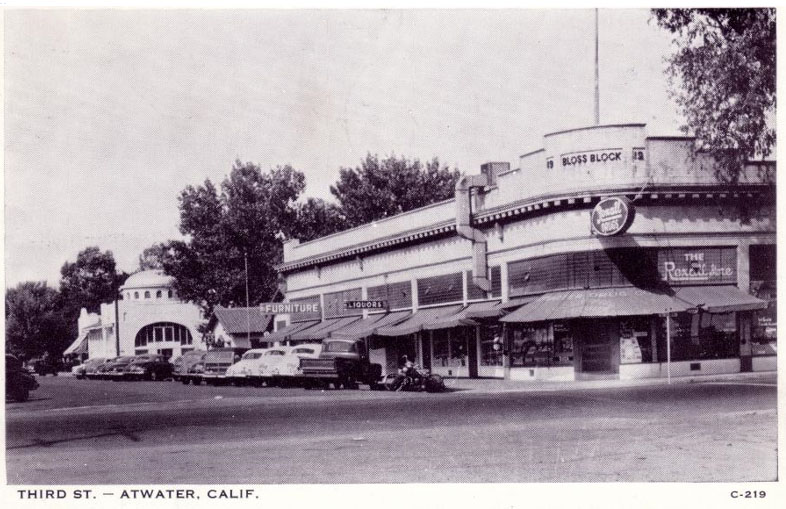 In 1917, E. A. and his wife, Marguerite, moved to Atwater. The population was 596. At first Marguerite refused to move to Atwater because there was no home to live in. Finally, Mrs. George Bloss Sr. had a home built on Broadway for the couple. They rented the home from her for several years and then purchased it.
E. A. purchased a small store for $250.00 from Dr. Kinney in the Bloss Block on Third Street and Front Street (Front Street turned into Highway 99 then Atwater Blvd.). The store was 18 ft. x 30 ft. George Bloss Sr. was E.A.'s landlord. This is where E.A. followed his dream and became Atwater's first pharmacist. He soon became known to everyone as"Pop"Heller.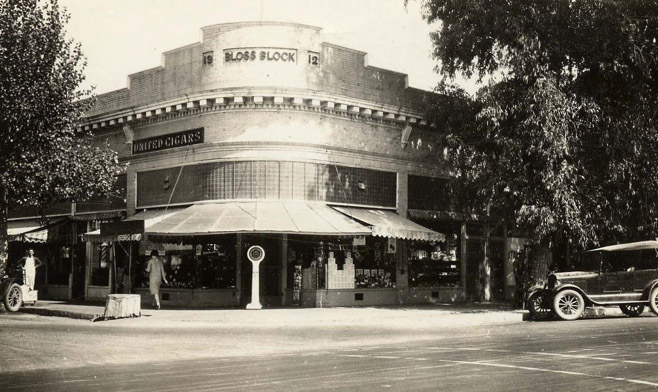 In 1917, Pop (E.A.) was awarded the Rexall franchise during his first year in business in Atwater. Meanwhile,
E.A.'s father, Elias, remained a blacksmith and owned his own shop in Atwater until 1921.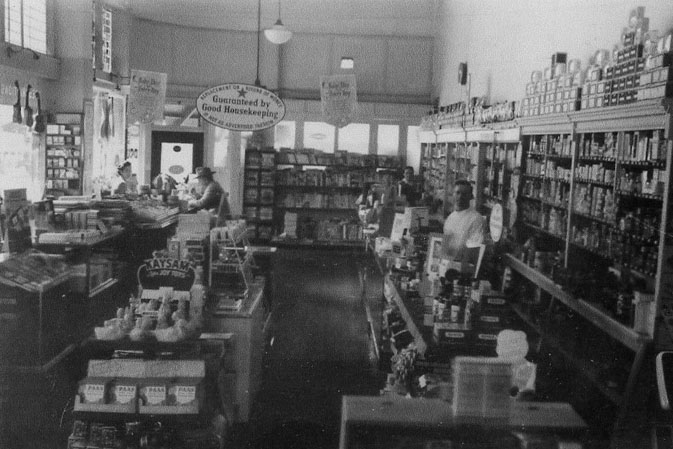 The Atwater Rexall Drug Store expanded twice while occupying the entire highway frontage of the building.
E. A. established the business, remaining in the Bloss Block for 35 years.The Bloss family and the Heller family became good friends.
Thompson Bloss, George and Christine Bloss' only child, played with Jim and Rosalie Heller.
As a child, Jim Heller would walk across the street to the Bloss Home and fill a ceramic pitcher with milk from their cow.
That is the same ceramic pitcher the Heller family donated to the Bloss Home Museum.


Thompson Bloss, Jim and Elias Heller
A frightening event took place in 1918. There was a terrible flu epidemic. Jim and his sister, Rosalie, wore masks over their noses and mouths for protection.
E. A. "Pop" Heller was an active leader in the community affairs, having served as president of the chamber of commerce, as a school board trustee, as a member of the board of trustees of the Methodist Church, as a member of the Masonic Lodge and as a charter member of the Atwater Rotary Club.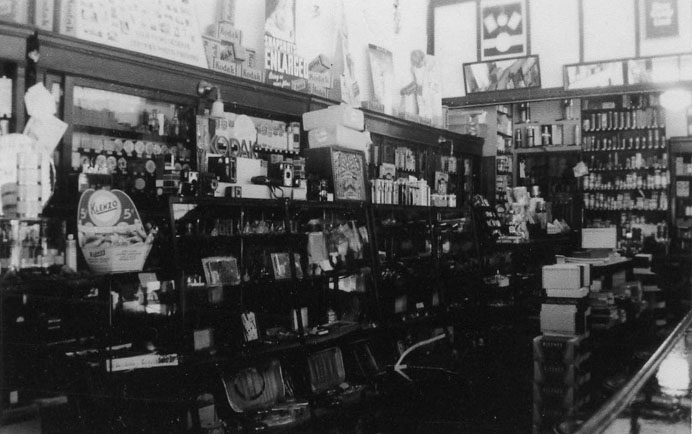 While Jim and Rosalie were growing up, Pop loved music and played the banjo, and guitar, and his band played at all kinds of local events.
As a young man, Jim had a girlfriend who lived in Oregon. On a trip to see her, he stopped off at his sister's,
Rosalie's, place. Her roommate was Peggy. It was love at first sight. Jim never made it to Oregon.
Jim married Marjorie "Peggy" Gernreich in 1937. They had two sons, Jim Jr. and Brian, both of whom share their father's and grandfather's enthusiasm for the drugstore.
When Jim and Peggy lived in Atwater, the population was approximately 1200. It was only natural that, Jim Heller, who spent much of his youth in the drug store and who had also graduated from the University of California School of Pharmacy, should go into business with his father. In 1945, Pop and Jim became partners.
The drugstore had a soda fountain. There were 9 round swivel stools attached to the floor.
Some of the first ladies who managed the soda fountain were Clara Mello, Ann Frago and Mary Sai Freitas.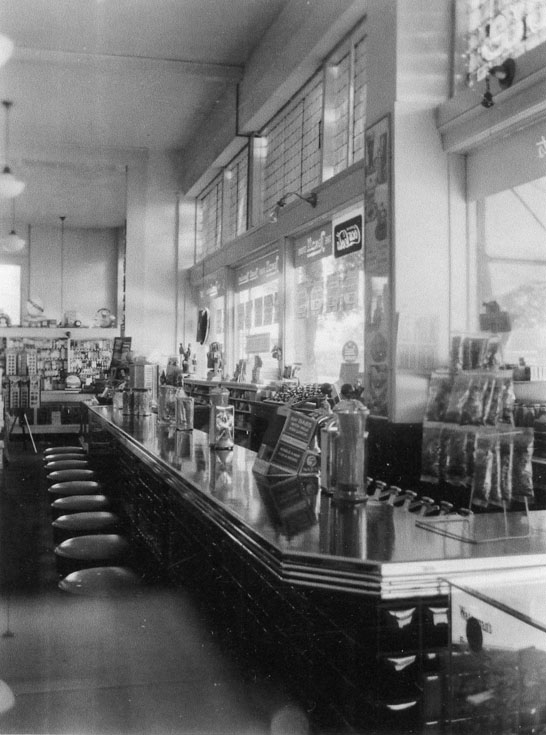 In the 1940's it was a favorite hangout for the kids in Atwater who had a few nickels and dimes to spend on a milkshake, banana split or a lemon-lime fizz. It was also a popular place to stop for people traveling on Highway 99. The store dispensed prescriptions and nonprescription remedies. It was the only source in the area for veterinary medicines up until the 1950's.
If you heard the clang of a cow bell, you knew your prescription was ready. This tradition lasted 69 years.
Jim joined Pop in the development of the Heller subdivision as the need for a new housing program arose in Atwater. The subdivision consisted of 60 homes and a public playground. The playground was called Heller Park. One of the stories passed through the generations was that Peggy said the first home they moved to in Atwater was on Elm St. and Locust St., and it was a
"shack". The first night, the first visitor they had was George Bloss, Jr. They all sat on boxes and ate minced meat pie.
Peggy enjoyed entertaining. After they moved to their new home on Third Street in 1945, Peggy would have Sunday dinners every week with all the family. During the Christmas
holidays, the Heller home had an open house for family and friends. There was always a roasted pig centerpiece on the table, and Joe Redell supplied the pig for years.
Their home on Third Street was originally built for Mrs. Christine Bloss' brother. When Castle Air Force Base opened and young families would come to town and needed temporary shelter, Jim and Peggy would open their home to them. They helped many families, as well as allowing the lifeguards who worked at The Plunge Pool to stay with them. The Heller's took
over The Plunge for 12 years before it was demolished.
In 1951, a new building on Broadway right across the street from Pop and Marguerite's home became the new site of the Atwater Rexall Drug Store. The new location was 40 ft. by 95 ft. The building was air conditioned, was well lit and featured piped-in music. Some of the original ice cream tables and chairs purchased in 1917 were set up in the Prescription Department for customers who preferred to sit and wait for their prescriptions.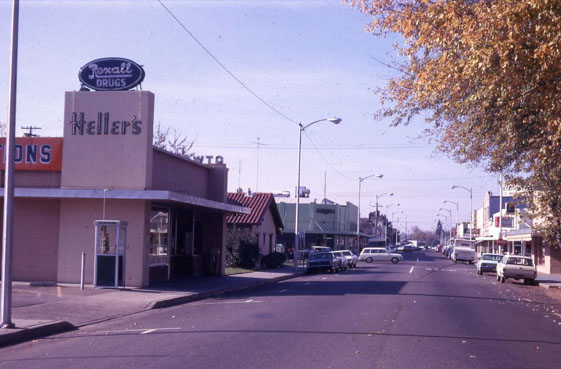 At one time, the drug store had the distinction of being the oldest continuous business in Atwater and Pop Heller the oldest practicing pharmacist in Merced County.
Pop Heller died in 1955. Son Jim continued Pop's dream and operated the Atwater Rexall Drug Store until 1986. Jim was a tall man, and the townspeople liked to call him "Big Jim". Big Jim and Peggy were involved in so many organizations and projects that helped Atwater thrive. In 1956, Big Jim opened another Rexall drug store in Winton.
Peggy was the first chairman of the Atwater Parks and Recreation Commission. She became a regular visitor to the State Department in Sacramento as a Recreation Commissioner to get much needed funds for Atwater. The group was able to obtain land from Clark Ralston to build what is now Ralston Park.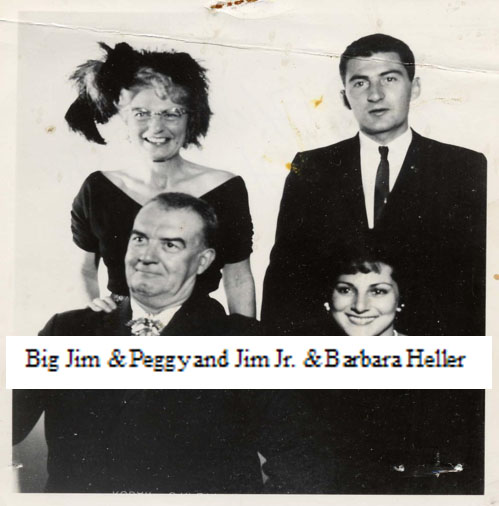 At a ceremony in Sacramento, Peggy was honored as "Woman of the Year" representing Merced County.
She was a school teacher and much loved by the community.
There was an elementary school built in her honor -Peggy Heller Elementary School.
Jim and Peggy's sons, Jim Jr. and Brian, worked with their dad at the drugstore. Jim Jr. handled all the accounting. Brian, who acquired the nickname "Bucky", was also a pharmacist, making him the third generation of pharmacists in the Heller Family to follow Pop's dream
Jim Jr. married Barbara Muratore, and have three sons, Jim III, Randy and Christopher.
Brian married Dorella "Dee" Forward, and had three children, Tamera, Kandace and Brian Boru.
As a gesture honoring their friendship with the Bloss family and showing their love of the Bloss Home, the Heller family donated Pop Heller's beautiful oak desk and chair that was used in the pharmacy to the Bloss Museum, as well as a wood and glass cabinet full of old medicine bottles and other containers. In recent years, they have donated Marguerite Heller's vintage couch.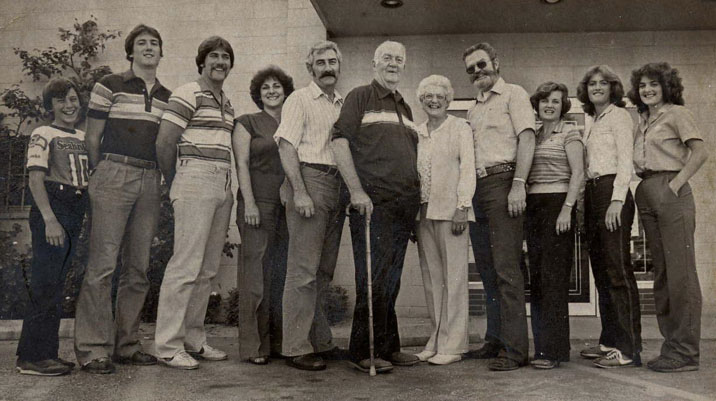 By Vicki Carne, Secretary
Atwater Historical Society
Photos provided by The Atwater Historical Society and Jay Baldwin
References:
Rexall Ad-Vantage Magazine July - August 1952 issue
Merced County Shoppers News - January 14, 1965
Atwater Signal Newspaper - January 24, 1973
The Signal Newspaper - April 6, 1983
Winton Times Newspaper - April 21, 2005
Images of America - Atwater - The Atwater Historical Society 2005
Mrs. Barbara Heller - July 31, 2019
Donate to the Atwater Historical Society
by scanning the QR Code