Atwater Historical Society's
FEATURED SPONSOR
Conchita's Panaderia
Sponsor February 2021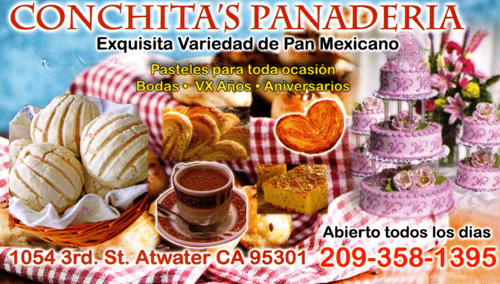 "La Panaderia que vino para Quedarse"
In the year of 1989, a young couple decided to take a chance and open the first Mexican Bakery in Atwater, California. Jesus and Eva Medina had no previous experience owning a business, as well as no support when they started their journey. Yet despite the obstacles they persevered and Conchitas Panaderia still stands today.
Jesus Medina came from a family of bakers from Michoacan, Mexico. The Medina family was known for their ancestral recipe of Conchitas. From this recipe Jesus and Eva started from the bottom and worked their way up. In the beginning when they were starting out, Eva Medina would go out to the camps and sell bread. She would drive around and introduce people to the first Mexican Bakery that had just opened up. Jesus and Eva Medina's hard work paid off, they found loyal customers who continue to come back year after year.
During the 27 years that Conchitas Panaderia has been opened, never once has there been a stranger behind the counter. Since its opening day Conchitas Panaderia has been a family run business, showcasing the love and support that we value as a business. In the year of 2002 when Jesus and Eva Medina decided to move, they sold the bakery to their only son in law, still keeping it a family run business.
Since 2002 until now Joel Gutierrez has been the owner, keeping the legacy alive while providing some of the best pan dulces. As if that wasn't enough, Conchitas Panaderia continues to make delicious cakes for birthdays, weddings, and quinceaneras; providing locals with tamales, menudo and other Mexican delights.
Conchitas Panaderia has been around for 27 years and we hope to continue running it for many more years to come. The dream that Jesus and Eva Medina had grew and it continues to grow due to the love and support of our local clientele. From us to you, thank you for your undending support!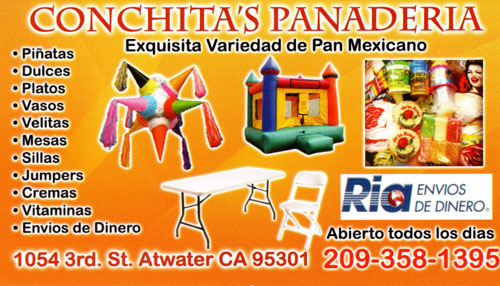 _________________________________________________________________________
Click here to view past sponsors