Looking Backward
THE ATWATER SIGNAL
Police Hosting Third Annual Ball Saturday
Thursday, April 30, 1964
Atwater police will be hosting hundreds of their dancing friends Saturday night for the third annual Policemen's Ball at the new Moose Hall off Bellevue Road.
All members of the 15-man department are serving on the tickets committee in addition to having assignments for other arrangements. They report tickets "doing briskley" and expect a capacity house for the 9 p.m. to 2 a.m. social.
Two highlights of the evening will be the music of Goularte Brothers Orchestra and the award of a trip for two to Lake Tahoe, according to Sgt. Joe Frontella, general chairman.
Shown in the picture, below, just made for the department are, from the left, Jordan Techeira, Sgt. Bob Galaway, Chuck Balch, Capt. Ray Blake, Policewoman Cis Rose, Dick Geedy, Dennis Chew, Tom Dash, Lee Check, Chief of Police Jerry Cole, Jerry Brockman, Charles Gregory, Policewoman Mary Wassum, Sgt. Frontella and Jack Miller.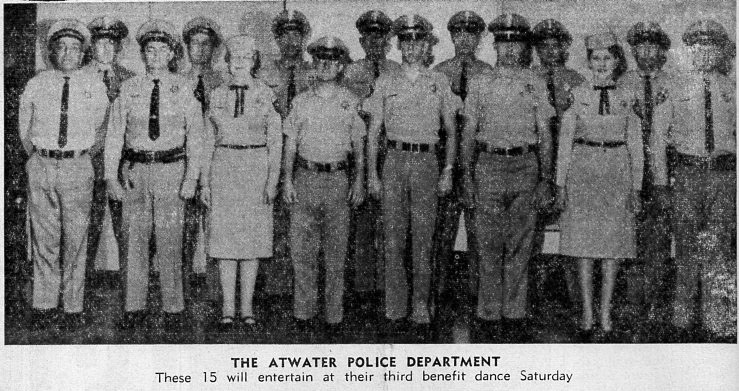 An article in The Atwater Signal newspaper on July 11, 1963:
"People will do anything for a living" a man commented to a reporter on seeing a poster billing Terry Holm of Atwater as an air show wing walker. "But she is not doing it for a living" the reporter replied. She's the wife of a leading physician and surgeon and the mother of three children. She's not getting a penny for this.

The reporter asked her "Why do you do it?" Terry responded "Because I want to. I like to fly and I like anything concerned with flying. Maybe it's getting a chance to do something very few other people get to do. It's hard to put into words. How would we ever progress unless we had people willing to do something a little different. We wouldn't have astronauts orbiting the earth now."

She has been flying for the past two years and has had 20 hours solo and 100 hours flying time all together. She and her husband, Dr. Richard P. Holm, both got their pilots license at the same time about a year and half ago. Dr. Holm has about the same number of hours in the air but has never ventured out onto the wing.
"Dick is a tremendous sport about my wing walking" Terry says. "He thinks it's real great, if that is what I want to do, he says more power to me."
As for the children, Susan 10, Cherrie 9 and Donnie 7 it doesn't bother them at all to see their mother strapped to a post on the top wing of a stunting plane flying upside down.

Judi Cole, Terry's cousin, of the Cole Brothers Air Show in Fort Wayne, Indiana has been a wing walker for years on planes flown by her husband, Dwayne and their son, Rolli. "I saw Judi do it and I thought I would like to try but I didn't think I would ever have the chance" Terry said.

Her chance came when Bud Fountain, 32, a Modesto crop duster who has built up the reputation as the country's most promising young acrobatic flier, attended a meeting of the Merced Pilots Association, of which Terry is the secretary.

Fountain told of his Gold Coast Air Show which was going to go on tour and Mrs. Holm asked if he could use a wing walker. Fountain said " yes" and after two practice spins at Ballico airport with Terry on the top wing, he presented her with an exclusive contract which she signed.
Her first professional appearance was at the Fourth of July air show before an audience of 5,000 persons at the Tracy Municipal Airport.

Fountain put the plane through all sorts of intricate maneuvers, loops and rolls with Terry on the top wing of his red and white Stearman. It was her longest ride as a wing walker, but she came through with nothing more than a slightly stiff neck, from the wind whipping her neck back and with sunburned arms from the slapping of her jacket sleeves. She hopped down off the wing as nimbly as she had climbed aboard and still smiling. They will continue their tour in August at Corning, CA and on September 8, they will
perform at Hollister, CA. The parachute jumpers, antique planes, stunt planes and the clowns about 12 acts. Fountain has been putting this show together for several years he is hoping they will be able to perform in Hawaii.

The Holms live in Atwater, California. They both come from Los Angeles where they met in 1952 while Terry was a student nurse at the Los Angeles General Hospital and Dr. Holm was an intern there. The Holm's came to Merced ten years ago and to Atwater nine years ago. She served as a nurse at Mercy Hospital in Merced in 1953, but since then has done only private duty as a nurse. Now she has another part time job that hardly would be recommended from the patients she is nursing back to health.

Terry's pilot, Bud Fountain did an outside loop during the airshow. The announcer seemed quite startled and as the kids would say, he nearly went nuts. Terry wasn't startled though. "That's for me, " she said. "He has never done an outside loop and he said if he did one he'd do it in the show and it would be for me."
The reporter also added that Mrs. Mary Jane Freeman was right next to him when Terry was wing walking. The reporter was talking to her about how great Terry was doing then he looked over and saw Mary Jane hiding under Dr. Holm's automobile. She said she couldn't watch so she went to get a tranquilizer, a Pepsi and hide until her nerves were calmed.

Of all the unlikely places to get a story on Atwater's brand new professional wing-walker! It was during the floor show at the air base officer's club Saturday night just before Hilo Hatti came on stage that we told Terry that we would like to do an interview with her. She said right now was alright. We tried to interview her but people kept coming up to her and telling her how they almost had heart failure watching and various other comments. So we were able to interview her later at her beautiful home in Atwater.

The Atwater Signal newspaper December 23, 1965:

Terry was asked to appear on Monday's CBS telecast of the "To Tell The Truth" show filming in New York. The panel had to guess which of the three women were the real airplane wing-walker. Terry received two votes and each of her imposters received one vote.
Additional information about Terry Holm from her daughter Cher on February 4, 2015: Cher said her mother was very stylish and sophisticated. She never owned a pair of jeans. She had a talent for decorating but choose to work as a nurse, an EMT instructor, a nurse recruiter, was on the Board at Bloss Hospital and was very instrumental in getting the "911" emergency phone number started.

Terry passed away in 2011. Dr. Richard Holm has retired and is currently living in Reno, NV. Terry's oldest daughter Susan, lives in La Habra, CA and is in the medical field, daughter Cher lives in Laguna Niguel, CA and her daughter Ava, is Terry's only grandchild (Ava is expecting a baby girl soon and plans on naming her Amelia after Amelia Earhart) and her son Donnie lives and works in Reno, NV.
Amelia Earhart started an association called "The 99er's" for women pilots. Terry was an active member. Fred Noonan, Amelia's navigator was married to Beatrice Passadori Noonan. Beatrice was the daughter of C.H. and Theresa Passadori and sister of Louis Passadori of Atwater. The Passadori's have owned and operated a business in Atwater for almost 100 years.
Terry's family have always been very proud of her and appreciated this tribute to her.
A MILLIONAIRE DEAD.
JOHN W. MITCHELL'S IMMENSE POSSESSIONS.
HIS GRAIN FIELDS WAVED FOR LEAGUES.
He Came to California in the Early Days and Won Riches by Farming.
The remains of John William Mitchell, the San Joaquin valley millionaire, arrived here on the train from Turlock yesterday morning and in the afternoon the casket was placed in a vault at the Masonic Cemetery. The funeral services were held at undertaking parlors on Eddy Street. The funeral was devoid of show, suiting the modest and simple tastes of the man whose wealth was never an inducement to luxury.

Though his name has seldom been seen in the public prints, Mr. Mitchell was considered a remarkable man. He had unusual business ability, and without being close or penurious, he accumulated a great fortune. He gave away large sums of money to aid poor people. He never went to law against anybody, and his friends do not remember any suit that was ever brought against him. His word was always as good as a bond wherever he was known. He was a Republican in politics, and contributed financially to campaign funds, but never sought off ice or allowed himself to be put forward as a candidate. The only public position he filled was that of trustee of the Turlock Irrigation District, in Stanislaus County.

Over a hundred thousand acres in Stanislaus, Merced, Fresno and Madera Counties were owned by him at the time of his death last Sunday. He had, besides, thousands of sheep, a thousand head of cattle, several hundred horses, a vineyard of 400 acres at Atwater, the largest in Merced County, a half interest in the Stevenson-Mitchell canal, in Merced County, which cost $100,000, warehouses in Turlock, Atwater, Modesto and Merced, other buildings and other property. His estate is thought to be worth $3,000,000. His acres were not exceeded in extent by any domain in his part of the State, save that of Miller & Lux.

By his will most of this estate is bequeathed to his three nieces, Mrs. Mary Geer and Mrs. S.H. Crane of Turlock and Mrs. George Bloss of Atwater. Mrs. Bloss being dead her share will go to her son and daughter. Legacies of $5000 each are left to the towns of Merced, Modesto, Turlock and Atwater for public libraries. Mr. Mitchell had not declared his intention to provide a library fund for these communities, but in a set of Bancroft's works which he purchased he wrote on each flysheet "For the Turlock Public Library," though Turlock has no library now. In the will bequests amounting to over $200,000 were left to friends and relatives. The three nieces are to equally share the residue. George S. Bloss of Atwater and Henry F. Geer of Turlock are to be the executors.

At the funeral yesterday were the two brothers of the deceased, Asal F. and Charles Curtis Mitchell. The former, who was a Californian in early days, now resides in Brooklyn, N.Y. Charles lives in Atwater. The Cranes and Blosses of Atwater also came to attend the obsequies, as did H.A. Osborn, A Turlock merchant, John Osborn, a merchant of Atwater, Mr. Stevenson, the partner in the canal with the deceased, Lucius Drakeley and Wallace Mitchell of Atwater.

Mr. Mitchell had fitted up one end of his Turlock warehouse for a residence, making a comfortable and attractive dwelling. The day after his death at least a thousand people living in Turlock and other towns called to view the remains.
A family mausoleum is to be erected in Turlock, but as it will not soon be finished it was deemed best to have the body kept in this city in the meantime, Mr. Mitchell having always been opposed to underground burial. He belonged to no religious denomination, but shortly before his death he said to a friend: "I love God; I love Christ; I love your Bible." Rev. Dr. J.H. Warren, who had long known him in the San Joaquin valley, officiated at the short service yesterday. A choir composed of Mr. Strauss, Mrs. J.M. Pierce and Alfred Wilkie rendered some beautiful music in the parlors and at the cemetery.
As Mr. Mitchell was born on June 6, 1828, he was a little over 65 years old. His birthplace was Woodbury, Litchfield County, Conn. His Mother belonged to the Drakeley family, whose ancestors came to America in the Mayflower. The Mitchells had the gift of longevity. The sister of the deceased went to the grave before him, but his brothers survive, though he was the youngest of all. He was born on a Connecticut farm, and had no wish to be anything but a honest farmer all his life. His operations were of greater magnitude than farmers ordinarily undertake, but still he was at all times an agriculturist, and while other men around him were becoming Croesuses by mining methods and other quick processes he was content to win riches by cultivation of the soil. Much of his wealth came from selling land that he had bought at a very low figure, but he was not looked upon as a real estate speculator. Nearly 75,000 acres of his land were sown to wheat in one year.

In 1877 the wheat product of his immense possessions that was shipped from this port to Liverpool would have filled thirty-four ships of 1000 tons each. He had not cultivated all the land himself, but had rented tracts to other persons. The number of his lessees increased yearly, and now the renters number sixty, each having 1000 acres on an average. For the renters he built and furnished houses, erected barns and windmills, and gave them seed and feed to start with. Until lately he also provided them with headers and other implements, but his recent custom has been to start lessees with plows only.
His Father wanted him to stay at home and inherit the ancestral farm, but his brother Asal had been to California and knew how fertile it was, and when he was about 22 years old John came hither with his brother. He landed February 22, 1851, and ever after that celebrated Washington's birthday as a pleasant anniversary. He worked in this city as a carpenter at $12 a day until he got money enough to buy a scythe and swath for $100, and then he and Asal went to Stockton. John cut grass with his scythe and made considerable revenue from the hay that he furnished the teamsters. The transportation between Stockton and the Calaveras mining districts was done by teams, and the brothers went into that business and prospered.

They did only a little mining. When in the hills John put up a tent and rented half of it for $50 a day. The brothers peddled goods also. They went unarmed, slept in their wagon at night, and were never assaulted or harmed.

Land in the San Joaquin valley was cheap in those days, and though John was derided, he invested his money in great areas, even before the official survey was made. His friends thought it foolish to sink money in that way. Most of the land he got cost the Government price of $1.25 in greenbacks, which was equal to about 75 cents an acre in gold, and he sold hundreds of thousands of acres for many times that figure. It is estimated that altogether there were half-a-million acres in his name.

He located first in the live-oak section north of Stockton and hauled cordwood to that city. Gradually he kept going further south in the valley, selling his land as he went and acquiring new, until finally he settled for good in Turlock. One of his ventures in the 50's was the purchase of 50,000 acres which he sold in a day or so for $1 an acres more than he paid. Once when he lived in the live-oak region he buried $60,000 in gold in his cabin. He bought a tract near Paradise, now Modesto, and went to get this gold to pay for it. It was not found. He was almost overcome by his fancied loss. He dug again, however, and found the bag. In securing land he did not at any time use his homestead or pre-emption right.

When he began to farm he had three teams and employed three men. He arose first, called the employees, cooked the breakfast and went to work with them. He cooked dinner and supper. The principal item on the bill of fare in those days was slapjacks. At night the crowd pitched in and washed the dishes for the next day.

Notwithstanding the immensity of his business, for many years he never employed a bookkeeper and had no assistant. The accounts that he kept were few. He retained his affairs in his memory. He lived temperately. He was married but had no children. His wife died several years ago. He was looked upon as a very benevolent man in the valley. Like Captain Weber, who founded the city of Stockton, he gave sites in his town for every church when asked. He helped the public schools, and at Christmas his benefactions were many. Innumerable anecdotes are related by his friends concerning his unostentatious charity.

Though he had been in failing health for two years, his mind was always clear, and he attended to his business to within forty-eight hours of his death. Though cheerful, he was seldom talkative. He was a thinker and planner. He was about six feet tall and weighed 245 pounds, and because of his adiposity he had a strong inclination to sleep. He would stop on the roadway when traveling, lie down under a tree, take a short nap, and go on refreshed. Like Napoleon, he could sleep in the saddle.
His life was an illustration of how a man can acquire riches without causing a pang. He was a millionaire to whom everybody was a friend.

Copied from article in November 30, 1893
San Francisco Chronicle
Typed from a copy of "The John Mitchell Story" belonging to Mrs. George Bloss. 5/18/2009
ATWATER CAL- SIGNAL
NEW LIBRARY TO BE OCCUPIED NEXT WEEK
The Thompson Bloss Memorial Library will be opened to the public next Tuesday.
The people of Atwater and vicinity have been eagerly awaiting this event, feeling that the occasion is a momentous one to each individual of the community.
The building of solid concrete, which is 50x60 feet, stands alone on a lot 100x115 feet. This gives assurance that no other building may encroach upon the beauty of its scenic effect.
It is steam heated throughout, in the library proper and in the Boy Scouts' department on the lower floor.
The woodwork inside and the furnishings – tables, chairs and movable book racks are finished in a soft shade of green, reflecting the color trimmings of the exterior.
The building is most attractive in appearance and is one in which the people of the community are taking a very personal interest and point to with pride to the stranger in our midst.
Men are now at work on the grounds, laying the sprinkling pipes for the lawn to be planted as soon as this is completed.
No expense has been spared in any detail by Mr. Geo. S. Bloss, Sr. in erecting this memorial to his only grandchild, little seven year old Thompson, who was taken from his family five years ago.
The entire cost is estimated at about $25,000.
ATWATER CAL- SIGNAL
WORK BEGINS ON BLOSS LIBRARY IN ATWATER
March 26, 1925
Yesterday Contractor T.A. Wayne of Atwater began excavation for the construction of the George Thompson Bloss Memorial Library in Atwater, located at Third and Cedar streets, opposite the M.E. church. This building will be one of the prettiest structures in the county. It will cost, furnished and equipped, about $20,000. The building will be completed in five months. The structure is to be of concrete, 40x50 feet in dimensions, of one-story and basement. The basement is to contain a hall for Boy Scouts and ample space for the heating plant, janitors' quarters and a repair and storage room for the library. The main floor is to have a large library room, with a smaller room for young people, and with an office for the librarian. The building plans for which were drawn by W.E. Bedesen, will practically be a duplicate of the library in Turlock.
The building will be named for Thompson Bloss, the beloved son of Mr. and Mrs. George S. Bloss, Jr., who passed away at the age of six in March, 1921, just four years ago. It will be a beautiful addition to Atwater, setting back from the street and surrounded with lawn and flowers.
The donors of the building are Geo. S. Bloss, Sr., and his two children, George S. Bloss, Jr., and Mrs. Edna Bloss Thorne, the latter of San Francisco.
By Mrs. Clara Arnold
Submitted July 1, 2014
When arriving in Atwater on a windy day in February 1910, the place was much different than now. No. 8 made a regular stop in Atwater.
There was a general store, post office, barber shop and a meat market. These buildings were facing what is now Highway 99, and began at Third Street and ran west n the order named. They were about 3 feet off the ground, or high enough to step off a horse. These buildings burned in the summer of 1912.
The hotel was run by the H.G. Peck family (Carrie Peck's father) and the next place was H. Logue's place, dwelling and pool hall. Back of these buildings on Broadway was the blacksmith shop and a livery stable.
There was a 2 room school where Neves' implement store is now. There was 1 teacher and pupils came from a radius of 5 to 10 miles. The Coulson children attended school here until the fall of 1913.
There were about 15 houses and 60 inhabitants. They had no Doctor until March of 1910. The store opened at 6 A.M. and closed at 9 or 10 P.M. On Sundays it was open till noon. W.J. Buss was the barber and had his shop open on Saturdays and Sundays.
The church was built in 1910 but there was no parsonage. The ministers had no way of travel but Shank's horses. One of the ministers walked around the Colony and arranged for cottage prayer meetins. It was at one of these meetings that I met the Coulson family.
We had 5 bachelors living on Fruitland Avenue, and there are few people here now who were here then.
Fruitland School District was organized in 1913, and the first term had 1 teacher and 26 pupils.
Our Women's Club was organized in the spring of 1913, and its name was Willing Workers Club. The first president was Mrs. Cronk, and there were 12 members. The officers served 6 months and meetings were held every 2 weeks and were in the homes. Our mode of travel was by horse and buggy, but everyone was there. There was always a picnic at either Cressy or Livingston Bridge on July 4th. This year 1913, a group spent the night of July 3rd. at Livingston Bridge, and in the morning a few families went up there for breakfast, and at noon 42 ate dinner. After noon, they watched the automobile races on the highway, only it was just a dust road.
Mrs. Matson is the only charter member here.
North of Liberty Avenue was a grain field in 1910-11.
We had Sunday School in the schoolhouse in 1913-14. Mrs. Cronk and Alice Leatherman were song leader and accompanist respectively, also teachers of the primary department. Mr. A.H. Hooker had charge of adults, and several from Winton came to these meetings.
Our first money-raising event was also in the fall of 1913. Stove, dishes, piano, table and lamp were borrowed. The cloakroom of the old school was the kitchen; $15.81 was realized from this evening. After this, the school trustees levied a special tax and bought the piano we are now using. As time went on, we bought a stove, kitchen cupboard, had a sink installed in what is the library of the north room of the building. We had a kerosene lamp and a gasoline lamp. We bought several dozen folding charis as there was no furniture in the north room.
Farm Bureau was organized in 1917 and this Center met with Winton, but we soon had our own Center meetings and Home Department. The first meeting was held in the summer of 1910, and the men met in the south room and the women in the north room. Miss Long, an itinerant Home Demonstration Agent, gave a demonstration of a pressure cooker. She cooked pink beans, and we had lemonade.
During World War I, quite a lot of knitting was done, and we had a club money-raising event.
Net proceeds were $45.00 which was given to the Merced Chapter of the Red Cross. There was an Agricultural Fair in Atwater on the site of Dr. Jackson's office building. Our Club had a booth, and our prize money amounted to $46.85. After deducting expenses, we gave $39.85 to the Atwater Red Cross. In October of his year, we gave $7.00 to this Red Cross, making total donations of $91.85. We also bought yarn and several sweaters were knitted and sent to soldiers.
Wages when we came here were 15 cents per hour.
The Fruitland Telephone Co. was organized in 1922, and the voting precinct in the early 1920's.
The first bell in the schoolhouse was from the "Omaha" and when it came it was cracked and not very satisfactory. Another bell was purchased in 1920.
Our Club Song was composed by Mrs. Allen, mother of Mrs. Cronk. According to old minutes, it was sung at Club for the first time on June 5th, 1913.
In 1914 umbrella trees were purchased and planted and in 1915 kitchen cupboard and drop-leaf table, the two costing $13.75. Two clocks, an alarm clock and one showing the days of the week, costing $13.75 were purchased for the school. The small oil stove in the kitchen cost $11.00 and has been used since 1919.
Our fist plates cost $1.00 per dozen in 1915. Mrs. Rogers presented us with our gavel in 1918; it belonged to Mr. Or Dr. John Gillett, Mrs. Julia Houck's grandfather. Mrs. Rogers is Mrs. Houck's Mother.
Our round trays were gotten in 1923, and each member paid for 1 tray; total cost was $10.00.
The first issue of the Fruitland Gazette was read on Oct. 29th, 1919, Mrs. Lockie being the editor. Mrs. Rogers, our President that year, helped to edit the paper, as she had belonged to a club which published such a paper.
Mrs. Petersen and Mrs. Partch were hostesses for the Christmas Party on Dec. 13th, 1933, and could find no tree in Merced. Lilley & Stribling donated the redwood tree you see in front of the schoolhouse. On Christmas of 1933 we gave a donation of food and articles of clothing to the Atwater Firemen for the needy. Our dishes were purchased in January 1934, and we bought 6 dozen each of dinner plates, 5 inch pie plates, cups and saucers to match, costing $52.27..
April 25th, 1934 we had an Antique Day, and there was a wonderful display of antiques. Tea, sandwiches and coffee were served, and the net proceeds of the silver offering was $5.52. In February 1935 we bought 1 dozen round vegetable dishes at 65 cents each. The stage was entinted in April 1935.
Our first annual Club Luncheon was held on June 14th., 1933.

Mrs. Clara Arnold
History of Atwater, California
Geographically, Atwater is located in Merced County, California, in the large valley known as the San Joaquin. The topography, when American settlers arrived, was that of rolling plains with large rivers cutting through. This feature is what made it possible to turn the land into an agricultural paradise. Originally occupied by many clans of the Indians known as Yokuts and then by the Spanish who had large land grants, the face of the area began dramatic change after the Treaty of Guadalupe-Hidalgo in February of 1848. This treaty ended the Mexican-American War and California became a part of the United States. The discovery of gold in 1849 brought people flooding into California looking for quick riches, however it also brought men of great moral character and vision.

One such man was John W. Mitchell who arrived in San Francisco, following his brother Asal, on February 22,1851. After working in this city long enough to buy equipment, John and his brother went into business cutting hay and cordwood around the Stockton area. They sold these items to the teamsters working the mines. They soon had their own wagon and tent, and plied the mines selling goods to those working in the gold fields. They set up the tent and rented out one half for $50.00 a month. Being an entrepreneur of the first order, any money John saved was used to buy land from the United States Government at the rate of $1.25 in greenbacks (paper money), or 75 cents in gold, per acre.

He had a half million acres in his name even before the official survey was completed by the United States Government. Having been reared on a farm in the Woodbury area of Litchfield County, Connecticut, the land had always been his calling. He convinced other people from his home state, including the families of his three nieces, to come west and try their hand at dry land farming. He would provide those who rented from him with seed to get started, along with farm equipment, and would also build houses for them. Mr. Mitchell, who bought and sold thousands of acres in the San Joaquin Valley, was the man who influenced the growth and settling of the land in the Atwater vicinity. John Mitchell died on November 26, 1893 at the age of 65. Though Mitchell had married, his wife Jane predeceased him and they had no children. The bulk of his estate was inherited by three nieces; Mrs. Henry Geer (Mary), Mrs. Stephen Crane (Emma), and Mrs. George Bloss (Ella). The three women were sisters and the children of Mitchell's sister Mrs. Stone.

John W. Mitchell

Marshall David Atwater

Marshall David Atwater came to California from Bethany, Connecticut as early as 1855. He spent several years working in the Mokelumne Hills area before coming to this vicinity in 1868.

He was prompted to make the move by John Mitchell. As one of the first settlers, he began to farm wheat on acreage that he rented from Mitchell. Mr. Atwater also purchased 6,000 acres of his own north of Atwater "The Winn Ranch".

He became one of the largest grain growers in the area. In 1872, when the Central Pacific Railroad pushed through the Valley to Merced, Mr. Atwater and Mr. Mitchell induced the railroad to put in a spur at the warehouse where Atwater stored his grain. This became known as "Atwater Switch" and made it easier for Mr. Atwater to ship his large amounts of grain. About this time he also purchased a ranch of some 4,480 acres, which was located northwest of nearby Merced. By 1876, Mr. Atwater, his wife Laura and their daughter Eliza moved to their new home on this ranch.

He became a diversified farmer growing different grains, citrus fruit, and livestock. Mr. Atwater also invented a huge grain harvester pulled by twenty-four mules. He operated this farm for over thirty years, passing away at the age of eighty in February of 1905.
George Bloss, Sr., who settled in Atwater in 1884, administered the Mitchell Estate, his wife was one of the nieces that inherited from Mr. Mitchell.

In 1887 Bloss and Henry F. Geer subdivided 480 acres into 20-acre parcels and called the area Atwater Colony. In 1888, the Merced Land & Fruit Company laid out the town and sold lots at auction. George S. Bloss and his wife, Ella Stone Bloss, approved this plan. The town was given the name of the colony.

Atwater was not going to be a fast developer, by the turn of the century only one hundred people lived in the area and its weekly newspaper was started in 1911. Atwater was, however, lucky to have George Bloss, Sr. as a benefactor for the town. He had been president of Fin de Siecle Investment Company, which had been created by all three of the niece's families to handle the Mitchell holdings.

When this company was liquidated it was divided into thirds – one for the Bloss Land and Cattle Company, one to the Crane Brothers Company, and one to the Geer-Dallas Investment Company. Bloss's third was used to benefit the town with a library, built in memory of his grandson, and a hospital in memory of his wife, Ella. George Bloss, Jr. and his wife Christine later continued these philanthropic endeavors.

This book pictures the progress of one town in the valley from its inception as a grain warehouse to a thriving community. Despite its slow start, the town did indeed develop. Situated in the population belt of the valley, over half of the county's population is now centered in the Merced-Atwater area. The Santa Fe Railroad was laid north of town and, along with Highway 99 passing through town, brought excellent transportation opportunities.

George Bloss, Sr.
The Atwater Canal brought irrigation to the area, while the advent of the Merced Army Flying Field (later Castle Air Force Base) brought people and increased commerce. From the days of the Atwater Colony, Atwater is now a fully developed community.
The Atwater Historical Society wishes to pay tribute to the people whose vision was so important to the settling of this part of the San Joaquin. Without a past there would be no future.
Atwater Historical Society, Inc. • P.O. Box 111 Atwater, CA 95301